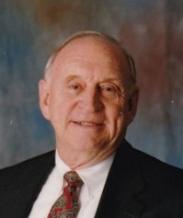 Vice President, Business Development, Cyclomedical Applications Group, LLC
November 6, 1932—November 21, 2015
Will Lepeska was a pioneer in marketing and financing of nuclear medicine technology. As Vice President of Marketing for Nuclear-Chicago, he was developer and initial promoter of the original Gamma Camera invented by Dr. Hal Anger at Lawrence Berkeley Lab, making diagnostic imaging history.
Founder of Hospital Financial Corporation, a firm that originated the leasing of nuclear medicine equipment, Will took that company public in the 70's and then private again in a leveraged buyout in the 80's. Since then Hospital Financial Corporation has launched a number of medical technology companies.
"Will was a father figure to a whole generation in our field -- kind, very astute, and possessing a warm humor," Dr. Jerry Nickles, a highly regarded professor of medical physics at the University of Wisconsin-Madison, said in an email. "We miss him already."
More recently Will specialized in the formation and financing of locally owned and controlled medical cyclotron facilities. In collaboration with Cyclomedical Applications Group, LLC, for which he served as Vice President of Business Development, and isoSolutions, he formed Wisconsin Medical Cyclotron, LLC, a locally owned and operated medical cyclotron facility in Milwaukee, in 2002. The Members of the LLC are the hospitals, radiology groups and oncology groups who are directly involved in PET scanning.  The firm's size and value soared in the decade after its 2003 launch, putting a capstone on a well-lived life and cementing Lepeska's impact on the field of nuclear medicine. As Manager of that LLC he executed an agreement for Cyclomedical to be its consultant and contract operator. Will Lepeska's background and experience in both marketing and finance enabled him to attract clients for Cyclomedical and to help on the business side of their ventures.
In 2013, isoSolutions, a nuclear medicine and radioisotope firm founded by Lepeska's long-time friend and colleague, David Drummond, sponsored the creation of the Armstrong-Lepeska Science Marketing Scholarship, at Langara College in Vancouver, British Columbia. The annual scholarship is awarded to a talented science student who completes a course in marketing, and honors Lepeska and Brian Armstrong, pioneers in the marketing of nuclear medicine, according to the scholarship, who played a critical role in bringing new developments from the lab to the public.
Lepeska is remembered as a loving father, uncle, brother, friend, and grandfather, a bold yet wise businessman, generous with his time and resources both in business and in his personal life.  He will be greatly missed.