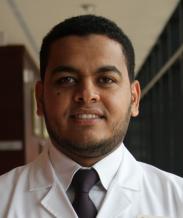 Site Operations Manager, Al Ain, UAE
Since 2010 Mahmoud has been Radiopharmaceutical Quality Control Manager at the cyclotron facility in Al Ain operated by Cyclomedical.  His education, experience, and skills have helped to ensure the success of the production facility in providing reliable, efficient delivery of imaging agents for the Centre.  Mahmoud has a well-demonstrated capability to build cooperative relationships with management, staff, and clients.
As Site Operations Manager, Mahmoud will supervise the Radiopharmaceutical Production Manager and the Quality Control Manager for the Al Ain site and will support the Regional Operations Manager with logistics and personnel. 
Mr. Mahmoud brings to the Site Operations Manager's position over ten years of technical experience, including seven years in radiopharmaceutical production and quality control for medical cyclotrons and molecular imaging devices.  He has prior experience as a radiochemist and nuclear medicine department operation manager for Ahram Radiology Center, Egypt, radiochemistry modules and gamma-camera scanners. He has hands-on PET experience in equipment installation and qualification, maintenance/service, routine systems operation, production/quality control and facility management.