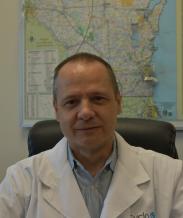 Kirill Kirillin, Ph.D. Physics and Mathematics
Kirill Kirillin has diverse experience in the radiopharmaceutical industry, with expertise in all facets of radiochemistry and cyclotron technology. A decade of work in the field of electronics, microwave technology, and imaging made for a smooth transition to PET when he joined CTI Services as a Production Specialist and Cyclotron Engineer in the early 90s. Advancing with CTI, PETNET Pharmaceutical Services and Siemens, Kirill became a global biomarker production implementation specialist.
Dr. Kirillin successfully pioneered commissioning efforts for a new generation of CTI Radioisotope Delivery System (RDS), leading and executing a turnkey biomarker production project for the first new-generation serial production cyclotron unit. He used his experience in professional editing of scientific publications to develop and manage documentation for Applications training programs for the Siemens Molecular Imaging radiochemistry portfolio.
As a global service and radiochemistry expert, Kirill ensured effective start-up and upgrades of biomarker production capabilities in key PET markets of 20 countries of the Americas, Europe, Asia and Africa. He provided project management, engineering, operational, technical support and customer training services for both cyclotrons and chemistry modules.
Dr. Kirillin has earned his reputation in the field for his persistence in seeing projects through to completion, attention to detail, and skills in collaborating with customers to achieve business and financial objectives.