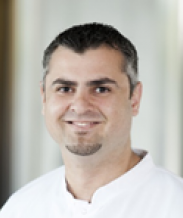 Site Operations Manager, Doha, Qatar
Dr. Al-Momani had more than 10 years of experience in radiopharmaceutical research and development in Germany prior to joining Cyclomedical as Cyclotron Facility Operations Manager for Hamad Hospital in Doha, Qatar. 
His Ph.D. research in radiochemistry and pharmacy at the Eberhard Karls University of Tübingen was done as a research assistant in the PET-Center at the University Hospital Ulm, focusing on radioiodinations and fluorinations as well as labeling with carbon-11 via cross-coupling reactions.
At the University Hospital Würzburg, Dr. Ehab carried out postdoctoral studies in radiochemistry and pharmacy at the PET Center of Nuclear Medicine (PET/CT-Zentrum der Nuklearmedizin, Würzburg). His work there involved both academic research and GMP radiopharmaceutical routine production of many tracers such as [18F]FDG, [18F]FET, [11C]Choline and [11C]Methionine as well as transferring the radiosynthesis of promising tracers for clinical trials into the automated system. Moreover, he worked with various radionuclides such as 13N, 11C, 18F, 123I, 124I, 125I, 131I, 68Ga, 89Zr, 90Y and Lu-177 using both bench and automated synthetic modules in preparations of different tracers for Molecular Imaging emphasising PET-applications.
In 2016, he held the position of deputy production manager of the radiopharmaceutical development department at the PET Center of Nuclear Medicine in the University Hospital Würzburg, with applications in both diagnosis and radiotherapy. Ancillary experience includes, as a teaching and research assistant at the beginning of his academic career, serving as head of The Service Laboratory for NMR at the University of Jordan.
Dr. Al-Momani has been active in the molecular imaging community, attending many international meetings and presenting his work in conferences in Europe and in the US, where he won the travel award from The Society of Nuclear Medicine (now SNMMI) in San Antonio, 2011. His book, The PET Method - Tracer Principle and Radiochemistry was published by Steinbeis-Edition (Verlag) in 2017, and he has published many scientific papers in this field. Moreover, he has contributed to the German pharmaceutical dictionary (Hunnius Pharmazeutisches Wörterbuch. 11).