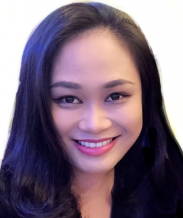 Doctor Dzung Mai belongs to the new generation of Vietnamese professionals who are smart, ambitious and resilient in pursuing advanced knowledge and international experience in order to contribute to development of her country.
Dr. Mai earned her medical degree at Hanoi Medical University of Vietnam and holds a number of Qualifications and Accreditations in Sales and Marketing. She has more than 10 years of working experience in multinational companies such as pharmaceutical companies AstraZeneca and GlaxoSmithKline, where she increased sales, gained awards in different pharmaceutical product categories, and developed long–term relationships with decision makers at major hospitals throughout Vietnam.
Since 2013 Dr. Mai has been focusing her knowledge and skills in sales, marketing, and business development on pharmaceutical products, medical equipment and health care consultancy services through her network of partners and collaborators.  Dr. Mai is CEO for Medilink Saigon, Ltd., which focuses on bringing the most modern medical equipment to the Vietnam market. Medilink is exclusive Distributor for Richard Wolf, a leading Urology and Andrology medical device company headquartered in Germany, for which Dr. Mai has successfully launched key products in Vietnam since 2016.
Dr. Mai is also a Project Director of GE Healthcare and Varian Corporation, TD Medical Ltd. In this capacity, Dr. Mai is active in product categories development; sales & marketing strategies and territory management.
Dr. Mai has been active in the field of nuclear medicine since 2011 and in 2019 became head of Cyclomedical Vietnam (CVN), an affiliate company of Cyclomedical Asia Pacific, Cyclomedical International's venture in the region.