Our primary product is expertise…
Our primary product is expertise…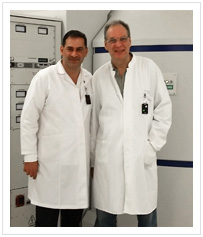 Cyclomedical International, Inc., is an experienced company providing comprehensive radiopharmaceutical production facility services …worldwide. 
As the only independent service provider of our kind, Cyclomedical offers expertise and hands-on proficiency for radiopharmaceutical production sites, particularly all phases of positron emission tomography (PET) sites. 
Cyclomedical is uniquely qualified for problem-solving in technical or regulatory matters. Our principals' many years of experience in all aspects of radiopharmaceutical science and technology include SPECT, PET, nuclear medicine research, development, and operation.  In our years of consulting and management for radiopharmaceutical facilities we have done it all!
News
In a 2010 interview with P.M.Communications, Qatar's Deputy Prime Minister Al Attiyah observed, "Today Qatar is becoming one of the centers of education in the Middle East.
For the third year the Armstrong-Lepeska Science Marketing Scholarship at Langara College in Vancouver has been awarded, this year to Wen Xing Pen.