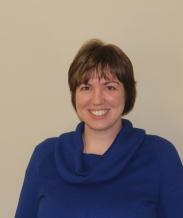 Corporate and Regulatory Document Administrator
Sarah has achieved a Certificate in Medical Product Quality from The University of Southern California's School of Pharmacy, Regulatory Science Program, with a 3.75 GPA.  She has completed the course in GMP Auditing for the Pharmaceutical Industry through the International Society of Pharmaceutical Engineers.  Sarah is an active member of the Regulatory Affairs Professionals Society (RAPS), attending RAPs and FDA workshops.  Sarah holds a B.A. in Photography and Digital Imaging.
Sarah started with Cyclomedical in April of 2014 to assist with the revision of Standard Operating Procedures for the worldwide PET radiopharmaceutical facility business of the company.  Pulling from her strong organizational skills, she currently manages revision control of Cyclomedical's master set of SOPs along with other regulated controlled documents.  She also assists in preparation of SOPs for equipment maintenance.
Since early 2015 Sarah has been assisting clients with the ANDA approval process.  As a member of the technical and senior regulatory team, Sarah oversees the paperwork process from start to ANDA approval and assists with the post-market requirements of approved applications.  She provides client training with managing revision control, assists clients with preparing their Site Master Files, and participates in audits for cGMP compliance.  Sarah is also experienced with preparing Quality Assurance Agreements and Equipment Qualification Agreements for manufacturing sites.
Sarah's experience and ongoing education in regulatory affairs make her one of Cyclomedical's key personnel.