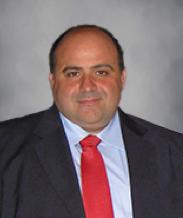 Vice President, Business Development, Europe/Africa
Nicola Ceccomancini has more than 10 years of experience in the Nuclear Medicine and PET radiopharmaceuticals arena in addition to almost another decade in the Pharmaceutical Industry.
As General Manager of Cyclomedical Applications FZE beginning in 2013, Mr. Ceccomancini managed the daily operations for the production of PET radiopharmaceuticals (18FDG, 18F-NaF, 13N-Ammonia) used on a clinical routine basis at Tawam Molecular Imaging Center in Al Ain, UAE, maintaining  the cGMP status of the facility, the compliance with Federal Authority for Nuclear Regulations (FANR) and the certification with Joint Commission International Accreditation (JCIA).  He has hands on experience as a Nuclear Pharmacist and has direct experience in the production and quality control of PET drugs manufacturing. He also directed site installations in South America and has an active participation in projects management.
Mr. Ceccomancini also leads Business Development initiatives for Cyclomedical across Europe Africa. His experience includes extensive Regulatory Affairs with the Nuclear Regulatory Authorities (Euratom, NRC, CNSC, FANR), the Food and Drug Administration (FDA) and the European Medicines Agency (EMA). He has developed and presented budgets, financial projections and market outlooks to shareholders, investors and various financial institutions on numerous occasions.  
Mr.  Ceccomancini has been Co-Founder and CEO of A.R.T. "Advanced Radioisotopes Technologies" Srl, an Italian-based Limited Liability Company offering business services and consulting to nuclear medicine clinics and radiopharmaceutical industries, a supplier of medical isotopes, generators, reagents kits and starting materials and small equipment for Nuclear Medicine hospital departments and PET radiopharmaceuticals production centers. Subcontracting from Cyclomedical Applications Group, LLC, he has done installation, validation and start-up of several PET centers across the MENA Region.
As Director of Operations at SWAN Isotopen AG, a spin-off of the Insel University Hospital in Bern, Switzerland, Mr. Ceccomancini was the project leader for the construction, installation and start-up of a state-of-the-art GMP facility for the production of PET radiopharmaceuticals (18F, 11C, 68Ga, 64Cu and 124I). During Mr. Ceccomancini's tenure, SWAN Isotopen AG was awarded a GMP Certification from Health Ministry of Switzerland (BAG) and a marketing authorization for 18FDG from SwissMedic, began the sales of the 18FDG and established a partnership with IBA Molecular, one of the world's largest radiopharmaceutical manufacturer.
Mr. Ceccomancini was a Qualified Person, Site Manager and Project Leader for IBA Molecular Italy and he was responsible for the installation, start-up, operation, maintenance, safety and continuous improvement of three cyclotrons and related GMP aseptic manufacturing facilities which were producing and distributing approximately 300 doses of 18FDG on a daily basis, serving PET-CT clinics Nationwide but also exporting in neighbor countries like Serbia, Slovenia and Malta.
As a Nuclear Pharmacist with GE Healthcare (formally Amersham Inc.) in Burlington, Canada, he was part of the production team responsible for the delivery of approximately 1,000 single unit doses of 99mTc–labeled SPECT radiopharmaceutical to more than 60 nuclear medicine clinics across the Great Toronto Area and Southern Ontario every morning.
Mr. Ceccomancini has established his official residence in Pescara, Italy, where he lives with his wife Mariassunta and three sons, Levante, Nicodemo and Callisto. He holds a M.Sc. in Chemistry & Pharmaceutical Technologies from the University "G.D'annunzio"in Chieti, Italy; a Certification in Environment, Health & Safety from University "La Sapienza" in Rome, Italy.  Mr. Ceccomancini is a licensed Pharmacist in Italy.