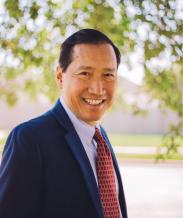 Member of Board, Cyclomedical Asia Pacific
Michael Nguyen has more than 30 years of working experience in international investment, strategic planning, mergers and acquisitions, operation, sales and marketing, and general management since earning his B.S. degree from Elizabethtown College, and an MBA degree in Finance and Management from the Wharton School, University of Pennsylvania.
Living and working in several countries in Asia, Latin America and Europe, as well as the United States, he held positions with Electronic Data Systems, Hewlett-Packard, Sweet Associates (venture capital/real estate), Viking Graham (investment bank), and Graham Packaging Company (GPC), a plastic packaging company with 90 plants worldwide.
Michael's positions with GPC over 15 years ranged from Finance Director, to Business Development Director, to Vice President. Notably, between 2000 and 2007, he was GPC's Corporate Vice President and Country Manager for GPC in Mexico, responsible for the growth of the Business Unit from just one person to more than 1,000 employees operating five manufacturing plants throughout Mexico with annual revenues in excess of US$150 million.
Since 2007, Michael focused on investment and business development activities involving cross-border projects between the U.S. and Asia. He provided investment, joint venture and business development services to Genex Turbines Technologies, Airports Worldwide, HAS Development Corp., Houston Airports System, Vietstar Airlines Multirole Corp., Nhat Tin Logistics, FPT Information System, Korea Airports Corporation, Hawker Pacific, and Vinmec/Vingroup.   
As the sole U.S. Representative for Vinmec/Vingroup, a conglomerate based in Vietnam, he assisted the Group in its healthcare strategies, recruitment of healthcare professionals, and negotiations with potential joint venture partners (Harvard Medical School, University of Pennsylvania, Mount Sinai Hospital, Yale Medical School, Baylor College of Medicine, MD Anderson Cancer Center, etc.).
Michael speaks English, Vietnamese, and Spanish.